ac maintenance in dubai
12 Jun
By Handyman Dubai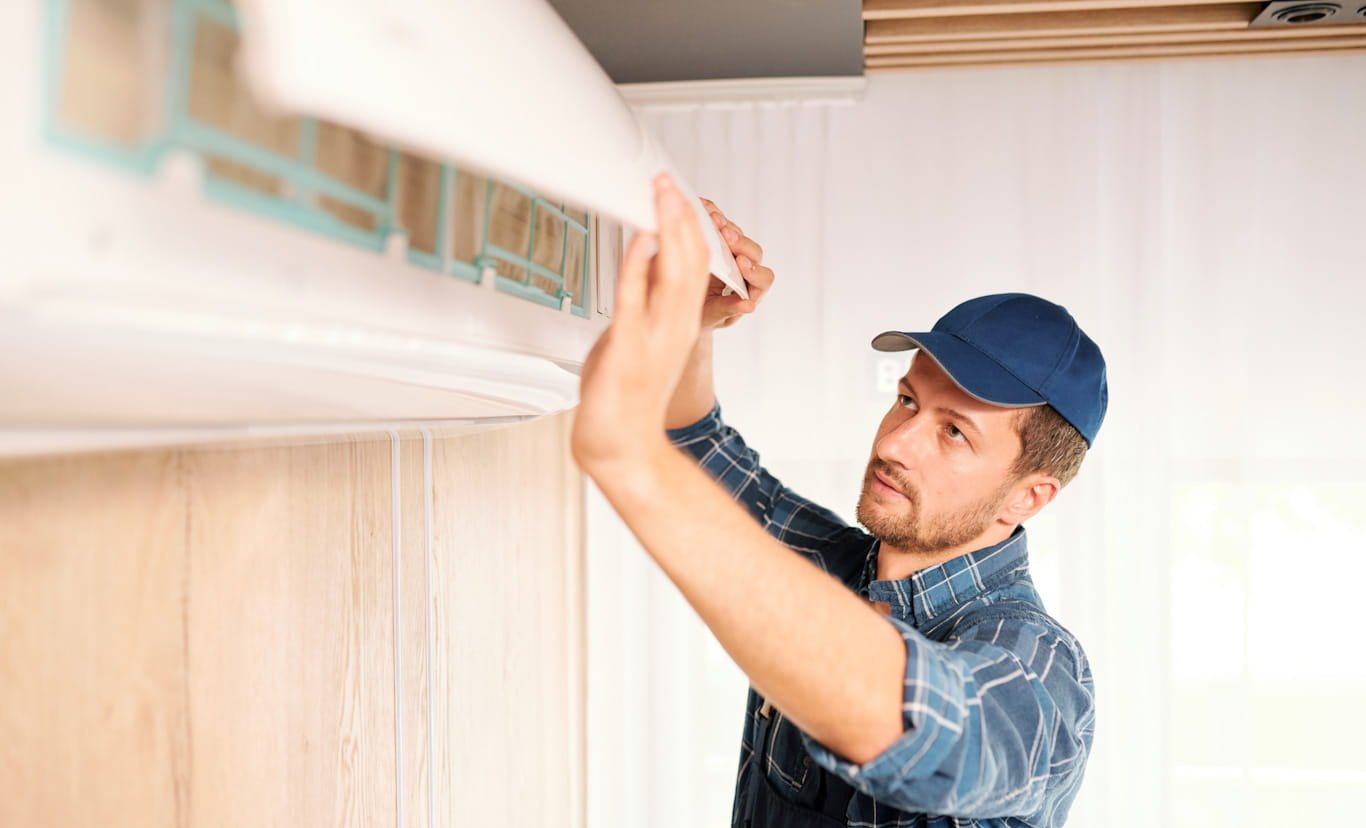 We provide professional air conditioning maintenance for all types of Air conditioning units. When the hot rays of the sun beat down and the stifling heat reaches us even in the shade, all we want is a little relief. Knowing that a nicely cooled home or office building is somewhere close by gives us a sense of relief. We know that no matter what when we walk in those doors a burst of cold will refresh us and calm our heat-stressed senses.
All-Inclusive Air Conditioning System, AC Unit and HVAC Services
Our Air Conditioning technicians have the knowledge and experience necessary to work on any type of air conditioning system. No matter how old or new the system is, what the brand is, or how big the A/C problem, we can easily identify and solve virtually any air conditioning issue.


Our Service Includes:
Troubleshooting
Breakdown Service
Compressors Changing
System Cleaning
Filter Cleaning
Servicing
Water Leak Fixing
Cooling Problems
Ducting
Insulating
Preventive Maintenance of Air Conditioning Units
AC Fan Coil Issues
Air Balancing
Air Duct Cleaning
Condenser Issues
AC Fan Motor Repair
AC Drain Blockage Issues
Thermostat and Temperature Issues
AC Filters
AC Overhauling
Electrical Issues
AC Unit Replacement
AC Complete Servicing
AC Noise Fix
Bad Smell from AC
Leaking AC
AC Vent Cleaning
AC Replacement
AC Supply
AC Repair and Fault Diagnosis
Types of Air Conditioner we Deal in
Central AC
Split Central
Ducted Split
Package Units
Chillers
Compressors
---
Instant Booking Form
It's hot out there and the last thing you want is to wait around for your AC repair. Here's how to choose a fast and reliable air conditioning service!
Being subjected to blazing hot temps can make you realize just how much value a reliable air conditioning service truly brings. This is especially in Dubai, where summers can reach over 100 degrees Farenheight, with around 90 percent humidity.
Today, we're talking about how to look to find the best experts in your area. Having someone to call when your systems need maintenance or tune-ups is critical to staying cool all year long.
Everyone enjoys the cool-down that air conditioning provides.

Yet, it's a service that you may not fully appreciate until you're forced to live without it.

Ready to get started? Let's go!
Do Your Research and Value Reputation
Maybe your style is to hop online and read some local reviews before you decide on a service provider. Or, maybe you value word-of-mouth recommendations most of all.
Either way, be sure to check around before deciding which service to select. The best ones will be the ones people are talking favorably about, writing about, and endorsing to others.

Look for companies that are licensed and certified to perform this type of work, so you can help avoid any liabilities that may arise if work isn't performed to code.

A reputable service provider will be trained and experienced, able to tackle myriad issues related to your system performance.
Look for the Companies that actually comes
A reputable air conditioning service will come to your location and assess your systems before providing you a quote to repair or replace the unit.
Whether you're in a home, an office, or a warehouse, the concept is the same. Offering an estimate over the phone without taking the time to survey the state of the equipment rarely results in a reliable and accurate quote.
Look for a service that takes the time to meet you where you are, and prioritizes in-person interaction. In the same vein, be sure to go with one that provides written quotes over verbal ones that could change without your consent.
In the same vein, be sure to go with one that provides written quotes over verbal ones that could change without your consent.

Seek Out Knowledgeable, Future-Focused Techs
An outdated air conditioning system is more likely to require more constant upkeep and may result in costlier repairs.
As such, find a service provider that can recommend new, up-to-date models to save you time and energy down the road. Look for tech-savvy technicians that follow industry trends and are current on all the latest model updates.
More recent models are designed to help cool your home more efficiently and can increase the value of your property. Before investing in a new system, make sure you're choosing one that's current and fitted to your needs.
A reliable air conditioning service will steer you in the right direction, ensuring your systems are in-date and capable of performing for years to come.

Dubai Air Conditioning Service: Your Trusted Resource
If you're looking for an air conditioning service in Dubai, we'd love to help.
We're a team of experts dedicated to keeping the city cool. From repair services to maintenance support, we do it all.
Contact us today to connect, and get relief from the heat!

---
Major Areas We Serve
Al Barsha
Al Furjan
Al Quoz
Al Sufouh
Al Warqa
Al Wasl
Motor City
Arabian Ranches
Arabian Ranches 2
Barsha South
Bur Dubai
Burj Khalifa
Deira
DIFC
Discovery Gardens
Downtown Dubai
Dubai Marina
Emirates Hills
Green Community
Mira 1
Mirdif
Hamriya
Hor Al Anz
International City
International City 2
Jebel Ali
Jafiliya
Jumairah Beach Residence (JBR)
Jumairah Lake Towers (JLT)
Jumeirah Village Circle (JVC)
Jumeirah Village Triangle (JVT)
Jumeirah
Jumeirah Golf Estate
Jumeirah Island
Karama
Mankhool
Mirdif
Marina
Meadows
Mudon
Nad-al-Hamar
Oud Metha
Oud Metha
Oud Metha
Palm Jumeirah
Raffa
Remraam
Sheikh Zayed Road
Silicon Oasis
Springs
Springs
Studio City
Sustainable City
TECOM
The Gardens
The Lakes
Umm Suqeim
Wafi City
World Trade Center
Zabeel
08 Nov
By Handyman Dubai
If you rent out a few homes or an apartment complex, you should consider adding a few people to your team in order to keep your properties in the best possible condition and to save money. Although you don't actually have to hire your own maintenance crew, it is a good idea to strike up deals with those who perform certain types of work so that you know who to call when you need these services. You might also get a good discount for using a company for all of your services.
First of all, it is a good idea to find a good paint service in Dubai. If you find a paint service in Dubai that offers both interior and exterior painting services, you can keep your properties looking their best at all times. It's best to keep things looking nice in order to bring in tenants, and it's never a bad idea to paint the interior walls of a home or apartment unit after each tenant moves out so that new renters have a fresh home to walk into.
It is also a good idea to find a good cleaning service in Dubai. Unfortunately, sometimes tenants leave a mess behind when they move out, but a cleaning service in Dubai can help you to get things cleaned up quickly so that you can move in new tenants.
Lastly, it is important not to forget about AC maintenance in Dubai. You don't want to wait until the last minute to find someone who offers AC maintenance in Dubai, so having someone on call can help if a tenant calls in with an air conditioning issue.