If you need fast emergency air conditioning repair service in Dubai, call the trusted team at Handyman Dubai today for immediate assistance.
If your AC unit is leaking, broken, or otherwise not working, you'll want to get it repaired fast to prevent further damage. Call Handyman Dubai for commercial or residential emergency air conditioning repair service today.
Your air conditioner keeps your home cool and dry in the summer, which is necessary for Dubai's scorching hot climate. There is nothing worse than coming home to a hothouse or apartment only to find out that your unit has stopped working. 
At Handyman Dubai, we know that any broken AC can feel like an emergency. That is why we offer fast service for all our AC repair services. Our technicians have years of experience working on all the top air conditioning makes and models, and we offer some of the most competitive rates in Dubai. If you need emergency AC repair in Dubai, give us a call today for quality service.
Get 24/7 Emergency Repair Service with Handyman Dubai
Dubai's hot weather can be hard on even the toughest commercial air conditioners, and any system can malfunction at any time–nights, weekends, or even holidays. With temperatures reaching as high as 43 °C in Dubai's warmer months, getting your AC working as quickly as possible to prevent overheating is important. That is why we offer 24/7/365 day service to protect your home, multi-family complex, or commercial building against these dangerously high temperatures.
Who We Serve
At Handyman Dubai, we work with residential and commercial clients to provide the best AC repair services. No job is too big or small for our team. Whether you need minor repairs on single-system homes or servicing for larger or multi-unit commercial systems, our air conditioner specialists can get the job done right. Contact us today to learn more about our services and exceptional pricing.
Few reasons to choose us:
☑ Licensed Contractor
☑ Quick Response Team
☑ Competitive & Reliable Quotes
We Service All Makes and Models
At Handyman Dubai, we work with all makes and models. This includes air conditioning units from all leading manufacturers in the industry, such as O General, Gree, LG, Carrier, Mitsubishi, Maytag, Honeywell, GE, Trane, and more. Additionally, no matter what type of air conditioning unit you have, we maintain and repair from window air conditioners to split air conditioners and ducted split, and from central ac units to chiller air conditioning systems.
If you want to learn more about all the systems we service or don't see your model listed, feel free to give us a call, and we will be glad to answer any questions.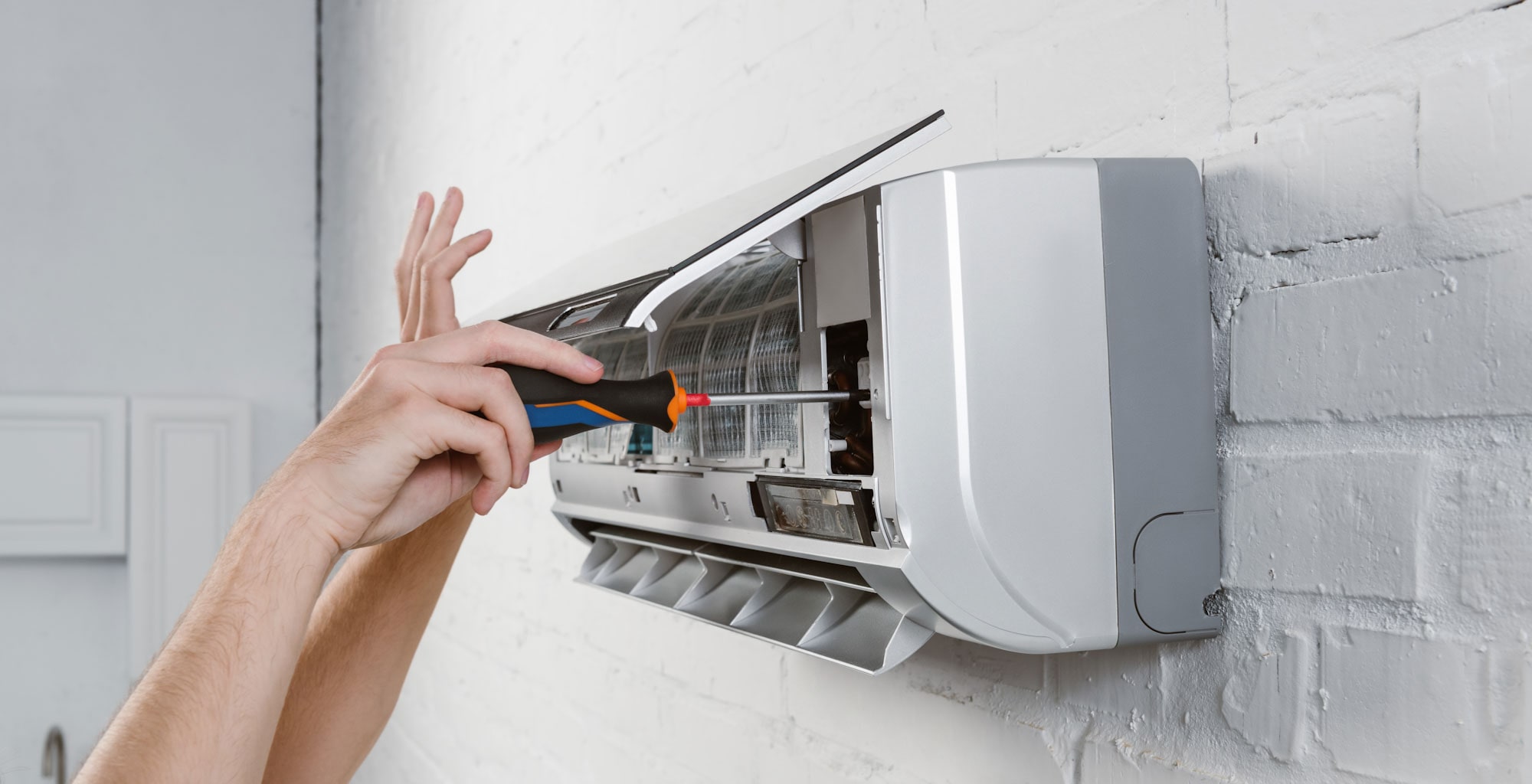 Signs That Your Air Conditioner Needs Repair
If your air conditioner is starting to malfunction, it's best to contact a licensed air conditioning repair service as soon as possible to minimize any damage and repair costs to your system. Faulty wiring or electrical issues may even pose a fire hazard, and leaking units can harm the environment. However, knowing if your system is starting to go can be challenging. Here are some signs to look out for:
Unit is on but not cooling the air or not cooling it efficiently
There is hot air blowing from the unit
The compressor constantly trips the breaker, or you are unable to turn it off
It is making unusual noises, such as banging, hissing, grinding, or other alarming.
Inconsistent temperatures throughout your home or business
Leaking air conditioner unit
A foul smell coming from your air conditioner
Rapidly increasing energy bills
Ice on the air conditioner
Visible damage to any of the components
Any other alarming sign
These are all signs that something may be significantly wrong with your unit. The good news is that many of these issues can be addressed quickly and for thousands less than the cost of replacement.
Why Choose Air Conditioning Repair?
If your air conditioner is damaged, you might be worried that you need a new unit entirely, but that is often not your best option. Many repairs are common and simple fixes. Your air conditioning system can last up to 15 years when properly maintained! If your unit is younger than that, there is a good chance that repair is the right choice. This is not only better for your budget but also for the environment.
What are the common causes of air conditioner failures?
7 common causes of air conditioner failures
Your air conditioner has a lot of components that may break or need to be serviced, but you don't need to worry when you call Handyman Dubai. Our air conditioning technicians have the experience needed to diagnose and handle your issue, no matter the problem. Here are some of the most common concerns:
Filter Needs to Be Replaced
Sometimes your issue is as simple as a dirty or worn out filter. If your filter is clogged, it can prevent air from circulating correctly. you can call us for an air filter cleaning service.
Thermostat Needs Repair or Replacement
Your thermostat regulates the temperature of your home or business. If it's not working properly, your AC won't know when to turn it on or off.  
Defrost Control Needs Repair
Your defrost control prevents ice from forming on your AC unit. If it's not working, this ice can cause your system to stop cooling for home or business.
Condensation Drain is Clogged
If the drain that allows condensation to exit your home is clogged with debris, it can end up overflowing back into your home and causing water damage.
The Condenser Fan Needs to Be Replaced 
Your condenser fan is located outside your home and brings air into the unit for cooling. If it is damaged, your unit may be less effective, and this may put unnecessary strain on your compressor.  
AC Compressor Needs to Be Replaced or Repaired 
If your compressor fails, your AC will not be able to circulate refrigerant, causing your unit to stop cooling your home.
Refrigerant Needs to Be Filled
Refrigerant is the fluid that helps to cool the air that is being drawn into your home. If your compressor is leaking, your unit may run low on refrigerant, and it won't be able to cool the air.
These are just some of the common AC repairs. When you call, a member of our team will come and thoroughly inspect your air conditioner and accurately diagnose any repair that needs to be made. 
How to Prevent Air Conditioning Emergencies
The best way to prevent air conditioning emergencies from occurring is to schedule regular maintenance for your air conditioner. Dirty or clogged components can put unnecessary stress on your system and lead to more frequent repairs. At Handyman Dubai, we offer regular maintenance and inspection services to ensure that your system is always working correctly.
When is it Time to Replace Your System?
While there are many times that repair is better than replacement, you might want to consider installing a new air conditioning unit if your system is more than 10-15 years, you want a more energy-efficient model, or multiple components are damaged. At Handyman Dubai, we offer a wide range of air conditioning services, including air conditioner supply replacement services. We work with all the leading manufacturers so you can get a system that outperforms your expectations.
How Our Emergency Air Conditioning Repair Services Work
Step 1: Receive Immediate Service
Call 24/7 for instant service. A member of our team will be on their way within minutes of your call.
Step 2: Get a Quote
After we examine your unit, we'll let you know your options and give you an estimate.
Step 3: Lightening Fast Repair
Our team will work quickly to fix your unit and clean up after they are done.
Step 4: Schedule AC Maintenance
The best way to prevent emergencies from occurring is regular ac maintenance. Schedule yours the day we come out.
If you are looking for the "best emergency AC repair near me," and you live in Dubai, you are in the right place. Continue reading to see why our clients love our service.
24/7 Emergency Service
We are here for you when you need us most. Call any time, day, night, on weekends, or on holidays for fast, friendly service.
Expert Technicians
Our air conditioning specialists are highly trained and have years of experience servicing a wide range of air conditioning systems.
Satisfaction Guaranteed
We can typically address your issue correctly the first time, but if you are unsatisfied in any way, we will work with you until your concerns are addressed.
A Wide Range of Services
In addition to our expert air conditioning repair services, we also offer plumbing, electrical services, and handyman services so you can get all the home repair and maintenance services in one place.
How Much Do Our emergency Air Conditioning Repair Services Cost?
Each service and repair is different. Your final cost will depend on the cost of parts, labor, and the extent of work that needs to be done. However, we offer some of the lowest prices in Dubai and can meet or beat any competitor's price. Call for a free estimate today!
Is Your Air Conditioner Broken?
Don't wait! Give us a call today to schedule your consultation. When you call, feel free to ask about any of the other services we offer. We are always here for you.